History

Discs

Repair Contacts

Photos

Manufacturer Owners

(we are NOT part of

Reuge or Thorens)
Thorens Music Boxes
Music On/Off
Repairs or Service:
If you are looking to have your units serviced or repaired I would suggest contacting the following locations that we have dealt with. There is also a little additional information on the page regarding the "combs" below.
Don Caine Music Box Repair Center Unlimited
The Music Repair Shop Unlimited
24703 Pennsylvania Ave.
Lomita, CA 90717-1516
310-534-1557
310-534-1558 (fax)
Reg Smith - Antique Music Box Restorations
Reg Smith
Antique Music Box Restorations
Dahlonega, GA
(706) 540-8976
Thorens Music Boxes Combs and Movements
The following few images were taken after we had purchased a pre 1930's music box and found that the sound was nice but it did not have the volume of the older comb with 7 or so broken teeth. We had a person suggest that the comb we received was likely too new for the unit because the angle of the comb and the pitch were changed with the newer movements (I would assume when they changed to a sealed movement).
In this image you can see the change in the angle to the comb shown as marked below.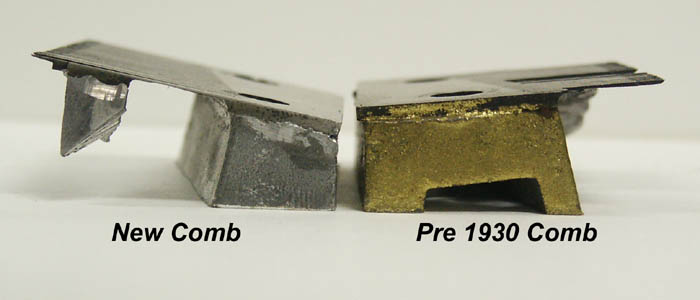 Here you can see the difference in the height of the back of the two combs.

This would show you that there is a difference in the "pitch" of the combs because the tips are longer on the old comb compared to the new one. Thus the new comb has more weight on each tine and a lower pitch.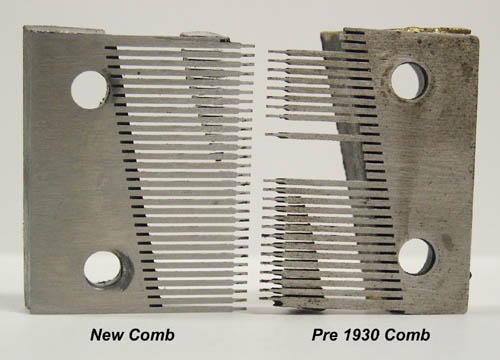 A few images we were just sent by Reg Smith to show some of the even earlier square end combs are as follows:
Thorens Movements
These two images show you the workings of the music box which is distinctive of the pre 1930's